Types of Storm Damage
11/12/2019 (Permalink)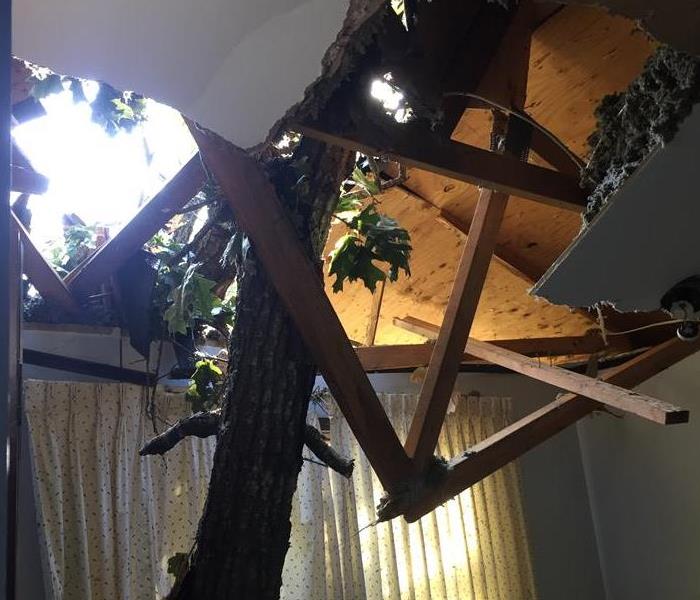 Wind damage, flood damage, and hail damage are all possibilities here in Arkansas. Here are a few quick tips to consider should storm damage hit.
Wind Damage Restoration
Tornadoes often cause severe wind damage. Your roof is particularly susceptible. Roof damage from strong winds may lift roof shingles, cause cracks, or remove part or the entire roof. Harsh winds and rains can shear away asphalt. Flying debris can also cause cracks and holes in your roof and siding. Correcting roof damage may prove difficult to homeowners and business owners after a disaster, because damage may not be obvious. If you have wind damage, make sure to ask for a professional to check your roof for moisture and signs of a roof leak.
Roof Leaks
Roof leaks and roof damage can be hard to detect. The storm may loosen shingles without creating a problem that's easily visible to the eye. Unresolved damages can cause additional roof leaks even weeks after the initial storm damage. A small roof leak can produce damp, moldy conditions inside your home or business. Your best choice is to perform roof repair immediately after the wind damage. Doing so can prevent long term interior damage. A wind damage restoration expert, like the professionals at SERVPRO of Fayetteville/Springdale, will help assure the home or business owner receives a comprehensive roof assessment and roof repair services when wind damage hits the area.
Flood Damage & Recovery
If your home or business is near water, or in a low-lying area, flood water damage is a risk. Heavy rains and flooding may cause water damage many miles from the water source. If the land around your home or business cannot redirect the additional water, flooding may happen. Even homes and businesses at higher elevations can sustain flood damage if frozen pipes break. Sump pump failures can contribute to basement flooding and contaminated ground water. Flooding may also disrupt your city's water system. Experts need to assess ground water and evaluate the condition of pipes following flood damage. Hiring a restoration service, like SERVPRO of Fayetteville/Springdale will allow you to begin your cleanup process even before more damage occurs. By calling SERVPRO first, you'll get a fast response and we will make an assessment on the storm damage.
Hail Damage & Recovery
Hail may be the most overlooked cause of major storm damage. Hail can damage not just your roof but also your siding, exterior walls, and any detached sheds or outbuildings. You may think your home has survived a hail storm without damage, but hail damage can be difficult to identify. Again, you're wise to hire a roofing professional to inspect your roof, exterior walls, and outbuildings for damage. Dark spots on your roof are areas where the shingles have been knocked away. These weakened spots can lead to other more extensive problems such as leaks and cracks. Cracked and chipped shingles are also a sign of hail damage.
Impact Damage & Recovery
In a major storm practically anything can become a creator of damage to your home or business. Think about trees. While most people want to have big trees near their home to produce shade, you'll want to make sure that these trees are at least alive and there aren't any branches that extend over your home or are breaking off. If you have a tree fall on your home, not only could it damage the roof of your home, but the force from high winds and size of the tree could cause it to enter the home and damage the walls, flooring and content inside your home. After storm damage, the professionals at SERVPRO of Fayetteville/Springdale know where to look for additional types of damage to your home.
Help Is Here
SERVPRO of Fayetteville/Springdale should be your first choice for any residential or commercial restoration needs. Our team of professionals is trained to assess the damage and potential threats, extract and contain the affected area, dry, and restore your property to preloss condition. SERVPRO of Fayetteville/Springdale is available 24/7 by calling 479-419-5544. For more about SERVPRO of Fayetteville/Springdale, click here.