SERVPRO Restores Your Rogers Home After a Fire
5/4/2023 (Permalink)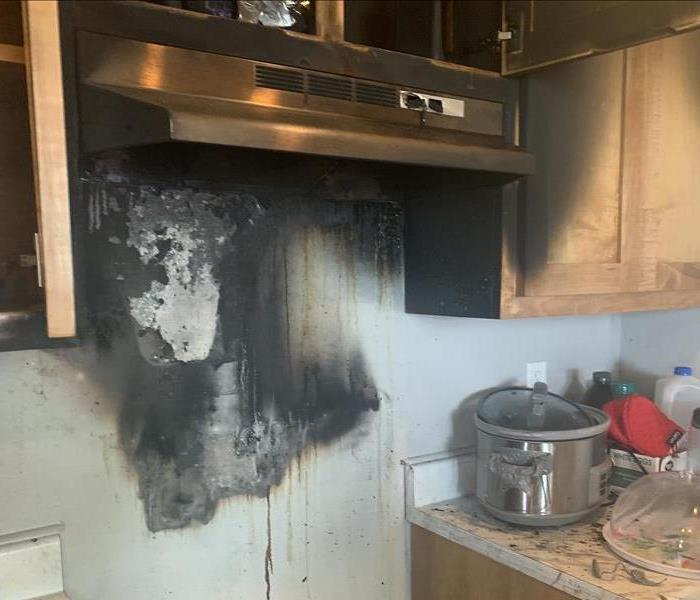 The kitchen fire in this Rogers home was safely contained by the homeowner. SERVPRO restored the kitchen and home to preloss condition
Having a kitchen fire in your Rogers home is more serious than people realize. While you extinguished the fire properly and no one was injured, restoring your Rogers home is a job for experts. SERVPRO of East Benton & Carroll Counties has trained technicians with the experience to restore your home or business to preloss condition.
During the kitchen fire you were focused on putting out the blaze safely and quickly. Dealing with the secondary damage is more difficult and requires knowledge and experience to remove the smoke and soot smell from your home. Our SERVPRO IICRC trained technicians will inspect both the area where the fire started and the rest of your home. A critical part of our inspection will be to evaluate the heating, ventilation, Air Conditioning (HVAC) system. The ductwork is a potential hiding place for the soot and smoke that developed during your fire. If not cleaned properly, your house will continue to smell like smoke.
Once our team takes a close look at your HVAC system, we will plan how to remediate the smell and remove the smoke and soot that has invaded your home. Highly trained SERVPRO technicians are prepared to thoroughly clean and deodorize your HVAC system. In cases where a comprehensive cleaning of the ducts is not practical, sealing the ductwork or replacing the ductwork may be recommended. Protection of your family, pets, and household content is part of our professional restoration process.
SERVPRO of East Benton & Carroll Counties should be your first choice for any residential or commercial restoration in your Rogers home or business. Our team of professionals is trained to assess the damage, identify potential threats, respond quickly to extract the water and restore your property to preloss condition. SERVPRO of East Benton & Carroll Counties is available 24/7 by calling 479-419-5544